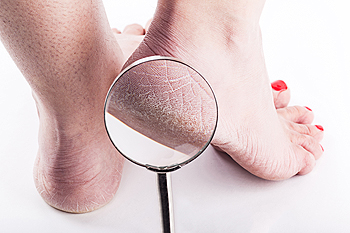 Cracked heels, a common foot condition, often arise from dry skin, which can be exacerbated by various medical conditions. For instance, individuals with diabetes may develop neuropathy, a nerve condition that impairs the ability to sweat, leading to increased skin dryness. This lack of perspiration contributes significantly to the development of dry, cracked heels. Similarly, Sjogren's syndrome, predominantly observed in women, is an autoimmune disorder where the body mistakenly attacks its moisture-producing glands, including those responsible for perspiration. This attack results in notably dry skin, heightening the risk of cracked heels. Additionally, specific skin conditions such as psoriasis, eczema, and fungal infections directly affect the skin's moisture balance. These conditions lead to the skin becoming dry and less elastic, making it more prone to cracking, especially in the heel area, which bears significant weight and pressure during walking and standing. These medical factors underscore the importance of understanding and managing underlying health conditions to prevent or treat cracked heels effectively. If you have cracked heels, it is suggested that you schedule an appointment with a podiatrist for an evaluation and a determination of whether there is an underlying medical problem, in addition to receiving correct treatment.
If the skin on your feet starts to crack, you may want to see a podiatrist to find treatment. If you have any concerns, contact one of our podiatrists from Foot Health Center of Merrimack Valley. Our doctors can provide the care you need to keep you pain-free and on your feet.
Cracked Heels
It is important to moisturize your cracked heels in order to prevent pain, bleeding, and infection. The reason cracked heels form is because the skin on the foot is too dry to support the immense pressure placed on them. When the foot expands, the dry skin on the foot begins to split.
Ways to Help Heal Them
Invest in a good foot cream
Try Using Petroleum Jelly
Ease up on Soaps
Drink Plenty of Water
Ways to Prevent Cracked Heels
Moisturize After Showering
Skip a Shower
Keep Shower Water Lukewarm
Don't Scrub Your Feet
If you are unsure how to proceed in treating cracked heels, seek guidance from a podiatrist. Your doctor will help you with any questions or information you may need. 
If you have any questions, please feel free to contact one of our offices located in North Andover, and Tewksbury, MA . We offer the newest diagnostic and treatment technologies for all your foot care needs.
Read more about Solutions for Cracked Heels