Medical Pedicures and Manicures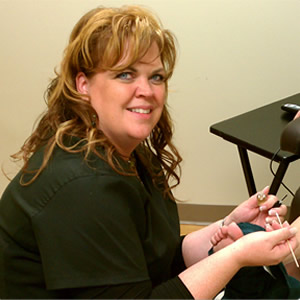 Nail Salon at the Foot Health Center offers an alternative to traditional salons while maintaining the utmost sterilization and safety techniques. At the Nail Salon of the Foot Health Center, you will enjoy the relaxation of a salon pedicure and manicure, have pretty feet, toes and hands and walk out of the office with confidence that you will not experience any of the problems acquired at a traditional nail salon. All of the tools used to perform the manicures and pedicures are treated like any other medical instruments. The multi-step surgical sterilization process will ensure the safety of the tools used at our Nail Salon.
At our Nail Salon you will be assured that every treatment is provided with your care and safety in mind.
If you have questions about our pedicures, manicures, or nail services in particular, please call us at (978) 686-7623.
Our Story
We decided to offer this atypical podiatry service because during many years of practice, we have seen an average of 3 to 4 women per week (and occasionally some men) for problems such as fungal infection of toenails and ingrown toenails, viral infection (warts) or even damaged nails that they developed from getting a pedicure or a manicure at a traditional nail salon.
This service was initially offered only to our own patients. As the demand and request grew, we have now opened our door to the community.
So, if you like to treat yourself or a loved one to any of our services, please contact us for an appointment.