Laser Fungal Nail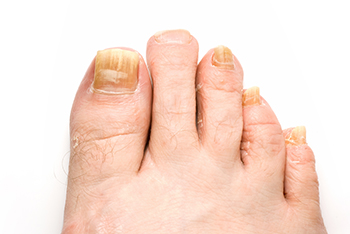 Toenail fungus, medically known as onychomycosis, is a very common infection of the nail. Nearly 3 million cases appear every year in the United States. Initially, toenail fungus may present itself as white spots on the nail or black spots beneath the nail. Ridges will typically start to form, and the nail will seem rougher to the touch. As the infection progresses, the nail may thicken, become brittle, discolored, or become misshapen. The growing fungus separates the layers of keratin in the toenail, which leads to the characteristic distorted look. The white spots you notice on your nail are displaced keratin that has begun to build up.
Our practice offers the most advanced laser technology available to clear toenail fungus and a variety of other skin conditions. Treatment itself involves the delivery of energy to the targeted area of the skin and/or nail, where it passes through to kill the fungus. The lasers are safe, comfortable, and effective.
Laser toenail fungus treatments are now used all over the world and can be performed by a podiatrist in-office. The number of treatments required to cure the fungal infection varies by patient. Speak with your podiatrist to learn more about getting rid of your toenail fungus.