Replacing Your Walking Shoes After 500 Miles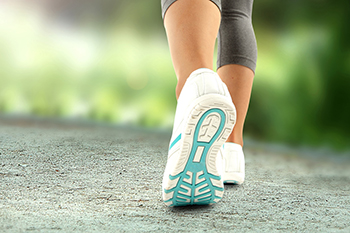 Did you know that you can only walk in a pair of shoes for approximately 500 miles before the cushioning, tread, and insole get worn out? Wearing shoes for longer than that can be bad for your feet and may even lead to an injury like plantar fasciitis or even an ankle sprain. Here are a few pointers for getting your next pair of walking shoes. Be sure to get your feet measured properly so you can ensure the right fit. Pro tip: you'll generally want to go up a size from your regular shoes to accommodate for feet that can swell from at least a half hour of walking. Lacing your walking shoes using a "runner's loop" will allow your toes to expand while keeping your heel in place at the heel cup. Make sure your socks fit properly too—and aren't too big or too tight—and are made of a synthetic, moisture wicking material that draws sweat away from your feet. If you like to alternate your walking shoes to allow them time to dry out between use, try to use the same brand and style so you don't confuse your muscles. For expert advice on walking shoes to support and cushion your particular feet (while addressing any gait issues you may have), consult with a podiatrist.
For more information about walking shoes versus running shoes, consult with one of our podiatrists from Foot Health Center of Merrimack Valley. Our doctors can measure your feet to determine what your needs are and help you find an appropriate pair of footwear.
Foot Health: The Differences between Walking & Running Shoes
There are great ways to stay in shape: running and walking are two great exercises to a healthy lifestyle. It is important to know that running shoes and walking shoes are not interchangeable. There is a key difference on how the feet hit the ground when someone is running or walking. This is why one should be aware that a shoe is designed differently for each activity.
You may be asking yourself what the real differences are between walking and running shoes and the answers may shock you.
Differences
Walking doesn't involve as much stress or impact on the feet as running does. However, this doesn't mean that you should be any less prepared. When you're walking, you land on your heels and have your foot roll forward. This rolling motion requires additional support to the feet.
Flexibility – Walking shoes are designed to have soft, flexible soles. This allows the walker to push off easily with each step.
If you have any questions, please feel free to contact one of our offices located in North Andover, and Tewksbury, MA . We offer the newest diagnostic and treatment technologies for all your foot care needs.
Read more about Differences between Walking and Running Shoes